Do you ever feel like your living room is missing something when it comes to decor? One way to breathe some life into the space is by adding a rug, but shopping for the one that will fit perfectly can be overwhelming. Finding the perfect style and color of an area rug isn't an easy task but the first and most important decision to make is on rug size. So, from measuring techniques to design principles, read on for our tips on how to choose the right rug sizes for living rooms!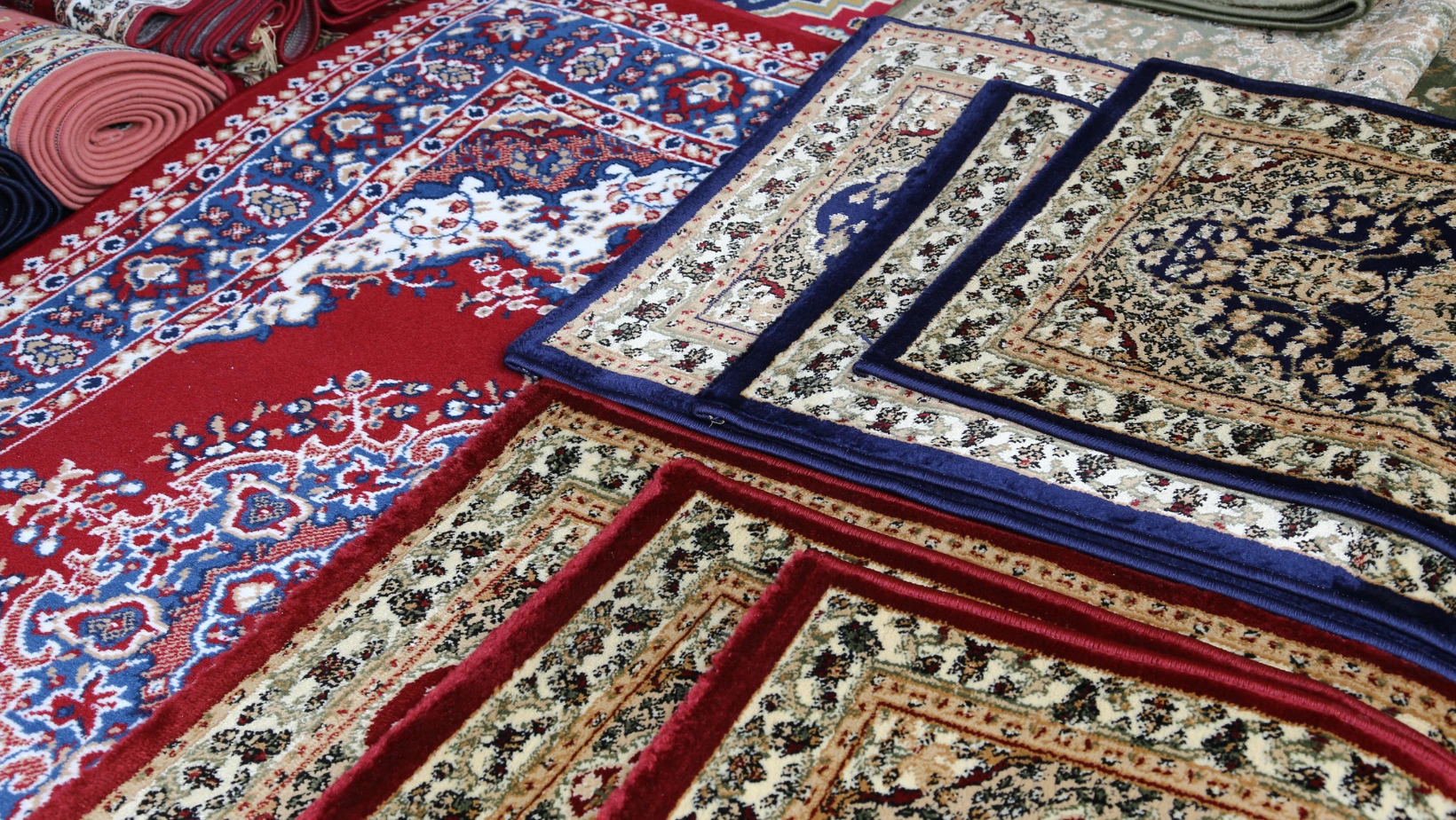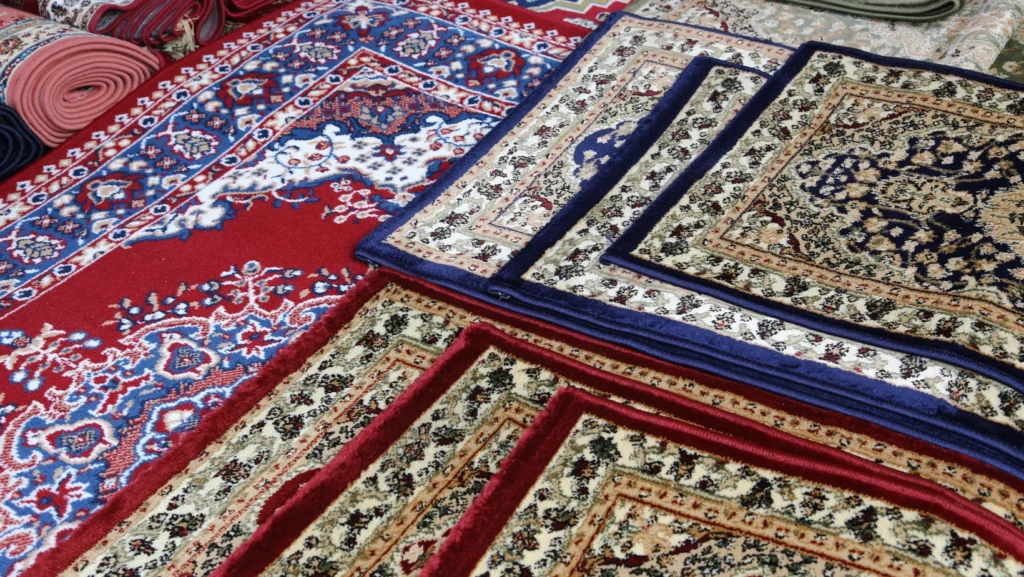 Common Mistakes to Avoid When Choosing a New Rug
Picking a Rug That's Either Too Small or Oversized
One mistake people often make is opting for a rug that doesn't match the size of their living area. While oversized rugs are a great option in some cases, it's important to make sure that you leave enough space around the edges so there is still an openness in the room. To avoid this, measuring is always important. Make sure you account for all the furniture that you plan on having and don't forget to add a few extra inches to your measurement just in case.
Choosing a Rug in the Same Color and Texture as Your Furniture
Another common mistake is choosing colors that are too similar to existing colors in your home. The rug should enhance the ambiance of your living room, not just blend in completely.
Selecting a Rug with Loud Colors and Patterns
Designing your living room with a boldly patterned rug and striking throw cushions might be overpowering. You don't want something too loud that draws too much attention and distracts from the overall look.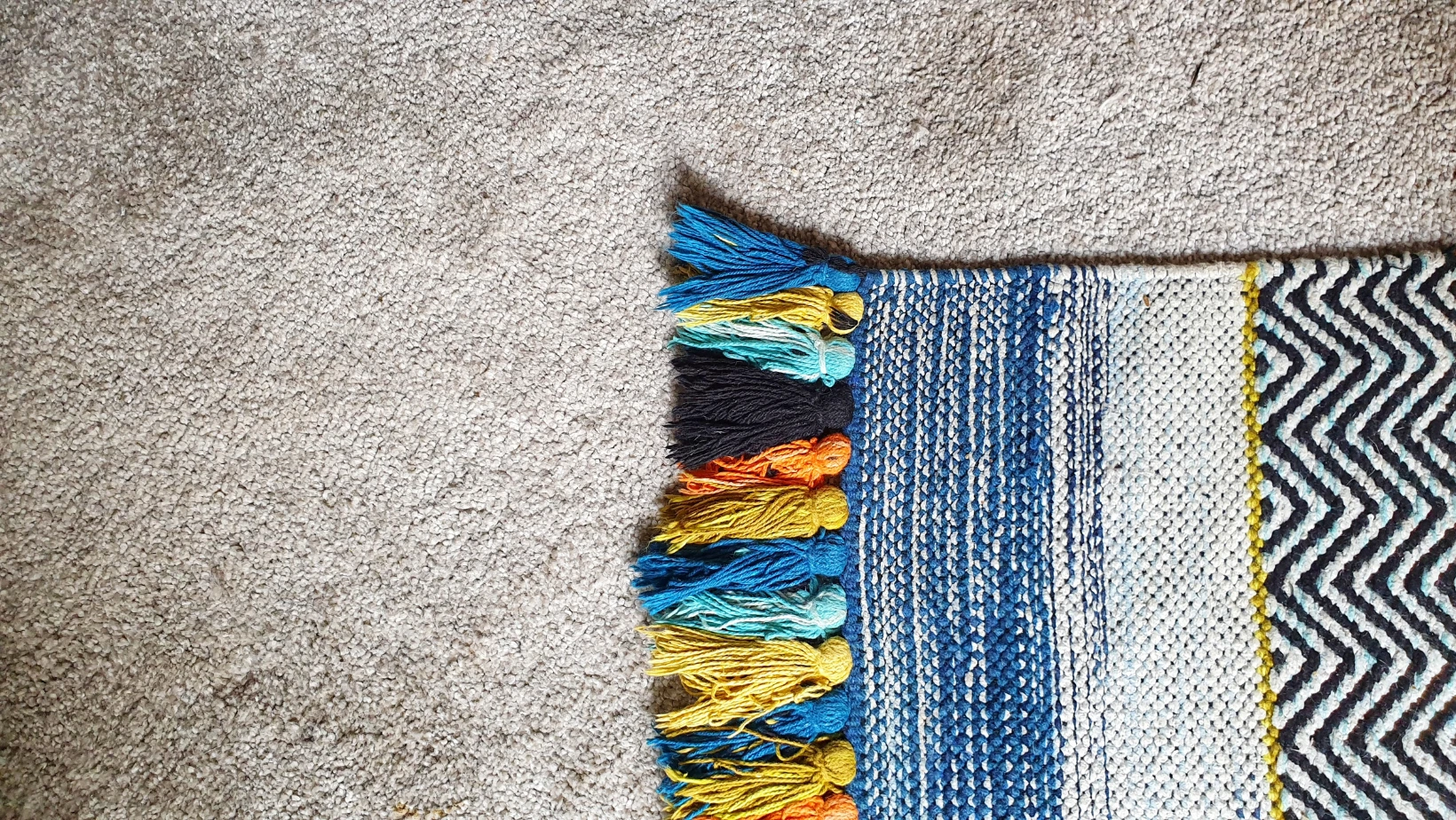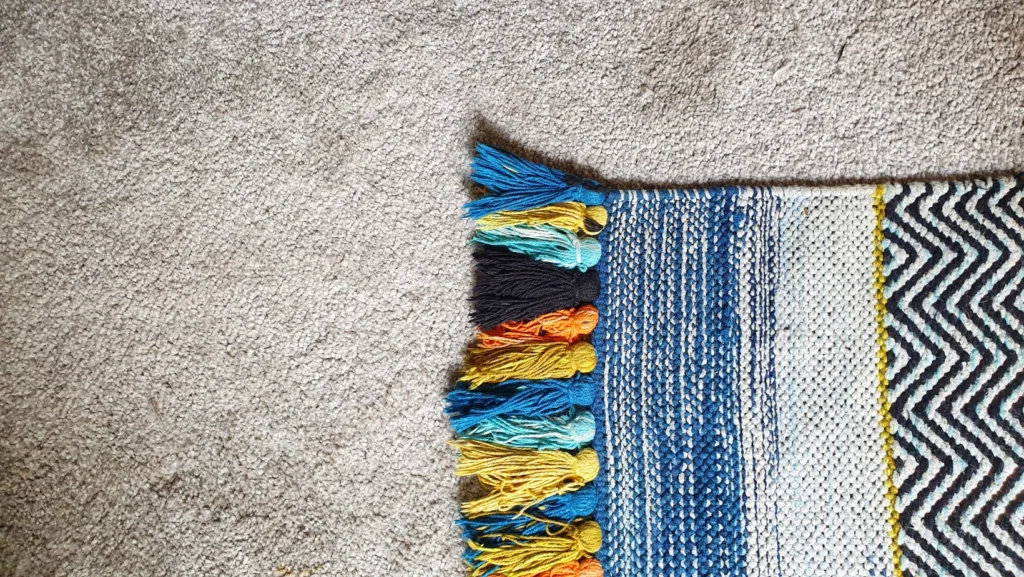 General Tips to Keep in Mind
It's important to have a rug big enough to be under the full front of the sofa.

Generally, the area rug must be large enough to cover at least two legs of every piece of furniture in the space.

If all of the furnishings in the room are on the rug, it is most likely too large.

When layering rugs, you want to be harmonious or complementary in color. Find several tones of the same hue and layer them to get the desired appearance.

The majority of

living room rugs

measure either 8 feet by 10 feet or 9 feet by 12 feet.

Ensure that the rug is at least 6′′ wider (8′′ is preferable) than your couch on both sides.
Choosing Rug Sizes for Living Rooms
If you have a big enough space and want all of your best furnishings (couch, accent chairs, coffee table, etc.) on your rug, allow 8′′ between the edge of your furniture and the edge of your rug. Make sure to use the 8-inch line as your official boundary to stay behind. Then allow 10′′ to 18′′ between the rug and the wall (and maybe 24′′ if there's space). However, If your couch is up against a wall, these rules dont apply. 
You want the front legs of the couch as well as chair legs to rest on top of the rug. This placement will make your space seem larger. The general guideline is that the rug should cover roughly one-third of the width of each piece.
This arrangement has the potential to be visually beautiful; nonetheless, it must be carefully considered. To begin, it is critical to understand the word "float." It describes a situation in which a rug is placed under the coffee table but not the seating. While this may seem odd, it is important to remember that if the rug is of great quality and just barely misses the couch and chairs, then it complements the furniture and makes the room appear more spacious. However, it is recommended that the distance between the couch and the rug does not exceed 5 inches. Any more distance would result in the appearance of a disproportionately small rug.
Layering Two Different Sizes
Despite your reservations, you may utilize your 5'x8′ antique rug if it suits the style of your space. The answer is to layer the small rug on top of the larger rug, which is a practical alternative that, when done properly, may result in an aesthetically pleasing finish. To achieve this, a natural jute rug could be used as the base layer, followed by a smaller rug (of a different color and texture) on top. If you like a more unconventional look, you may arrange them off-center as long as the front legs of your furnishings are on one of the rug's edges.
Abstract rugs are a popular form of rug with non-traditional patterns, shapes, and colors. Abstract carpets, as opposed to conventional ones, sometimes feature aspects of contemporary art and may be influenced by a range of inspirations such as nature, geometric shapes, and cultural icons. Abstract carpets can provide a feeling of interest and elegance to any space, making them a popular option for people wishing to add a modern touch to their home design.
Circular rugs are an outstanding and versatile design for a rug that can lend a touch of luxury to any living room. Circular rugs, as opposed to rectangular ones, can create a feeling of flow and movement, making them a popular option for open-concept living rooms or rooms with rounded furniture. Moreover, circular rugs can feature elaborate ornamental patterns and designs that may be utilized to draw attention to a particular section of a space or to create a focal point.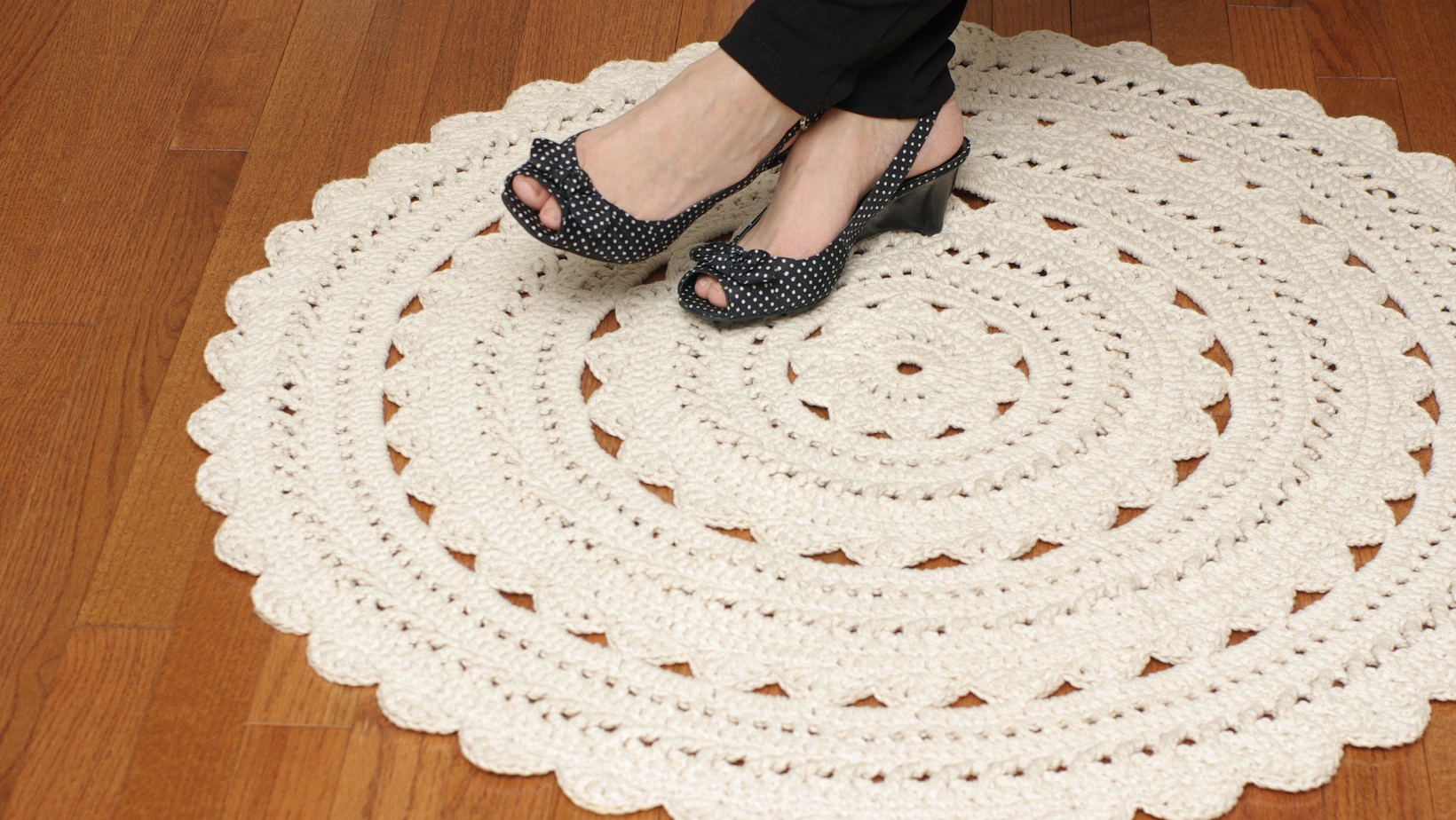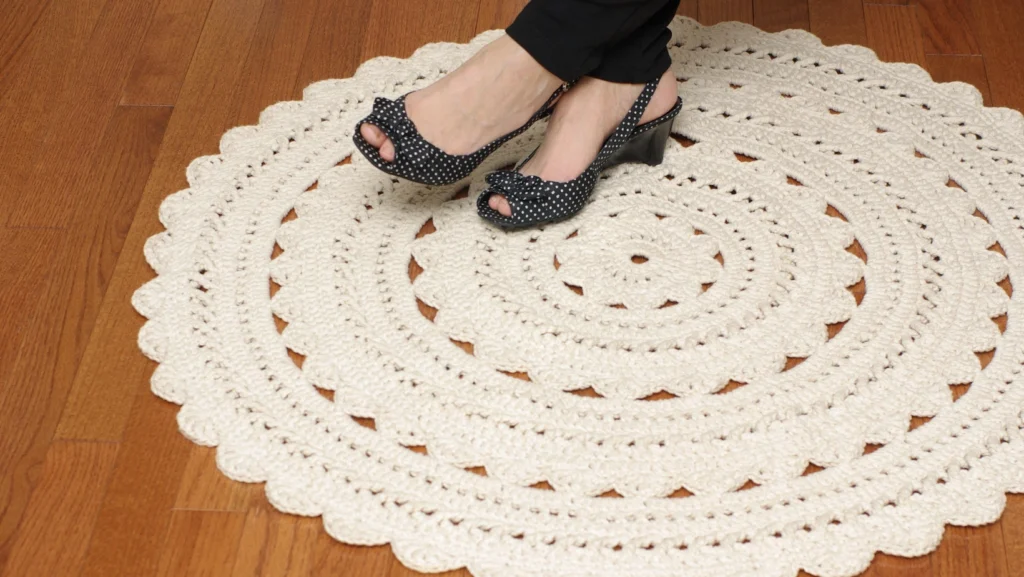 Chevron rugs are a trendy style of rug with a characteristic zigzag design. This popular pattern is available in a variety of colors and fabrics, ranging from natural fibers such as jute and cotton to synthetic mixes such as polyester and nylon. The chevron design can make a  statement or offer a subtle but eye-catching texture to your living space. Chevron rugs complement a wide range of interior designs, from modern to bohemian to seaside. They may be utilized as a focal point or as an enhancement to other patterns and textures in the room.
This classic combination of alternating stripes in two or more colors creates dimension and visual interest that can easily be adjusted to suit any desired aesthetic. Whether adorned with bold, vibrant colors for a sunny summer feel or composed of muted tones for a more subtle monochromatic look, the versatility of striped rugs makes it easy to achieve the perfect atmosphere in any room. 
Black rugs make a bold statement in any home. Whether you want to spruce up the living room or add some drama to the bedroom, black rugs can be a great way to add texture and depth. Not only are they stylish, but they are also versatile as they can match with almost any color palette. With so many materials, patterns, and textures ranging from classic Persian rugs to modern faux fur designs, there is sure to be something for everyone. Incorporating a black rug into your will help set the tone for a chic yet relaxing decor.
Decorating with rugs can be a fun and exciting way to add charm, style, and texture to any room. It's important to consider size, color, shape, fabric, and budget when choosing the right rug for your living room. And be sure to measure the area before settling on a rug size so that you have appropriate coverage and the rug isn't swallowed up by your furniture. With these tips in mind, determining the precise rug size for your living room should be easy!